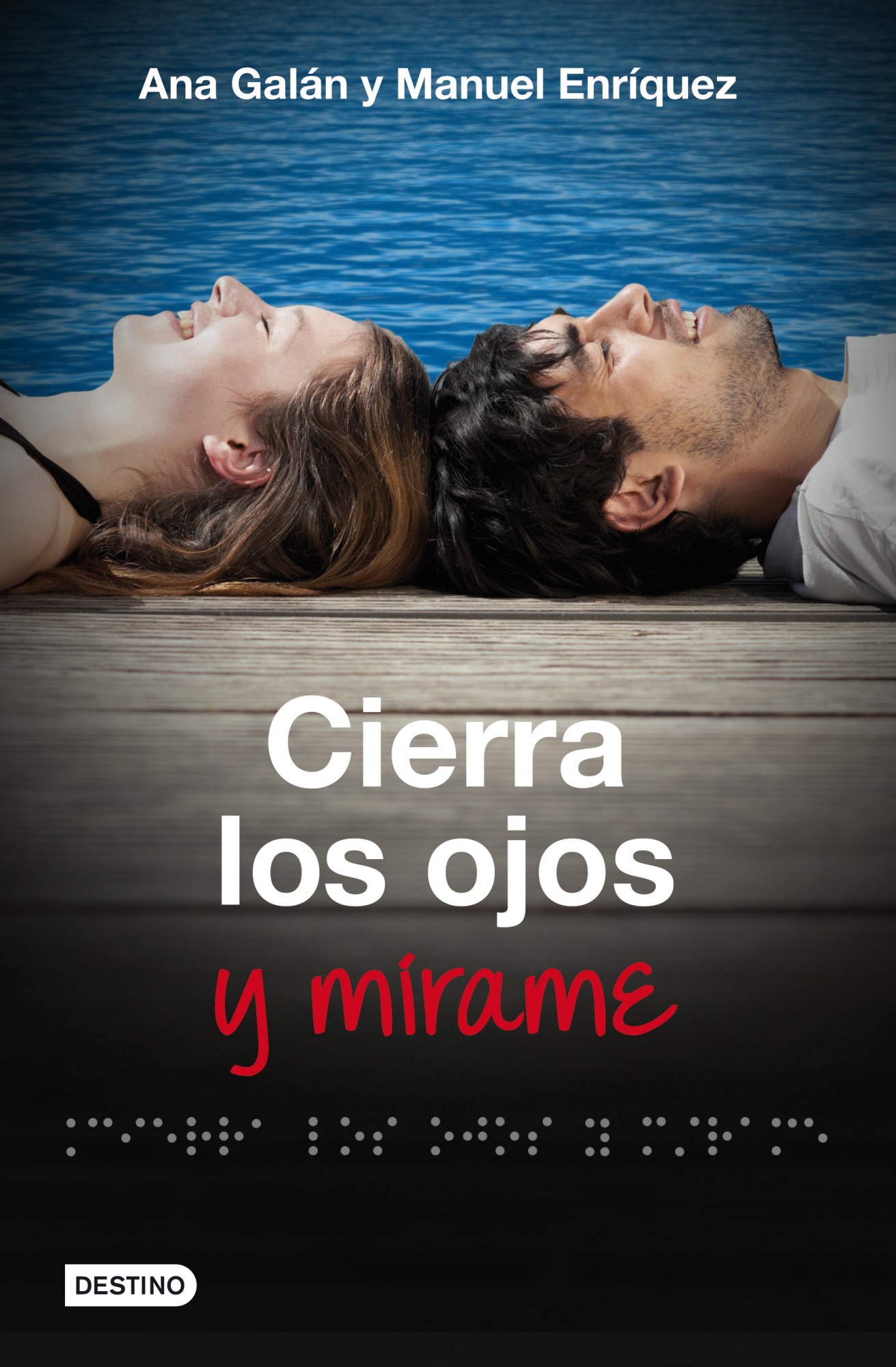 I'll write first in English, and then in French. It's not a translation, I am just writing first in English and then in French so it can't be exactly the same. (Première partie en Anglais, deuxième partie en Français, descendez un peu).
ENGLISH
Close your eyes and look at me
Book description: After a serious car accident, David is told he will never see again. From that moment on, he is submerged in a world of shadows, fear, and anguish. He will have to learn to get around on his own or with the help of a guide dog. Blanca's dog, Kits, is no ordinary dog; he's a future guide dog. The lives of Blanca and David intersect and they soon have more in common than just Kits. Will a vibrant, young student be able to fall in love and maintain a relationship with a blind boy given all the social pressures and prejudice?
So, what did I think about this book?
This is a book I had wanted to read for a while. I had seen this book last year in a bookshop and the cover and description had been on my mind ever since. After The Fault in Our Stars and the TV series Switched at Birth, you may think it's common in young-adult culture to read about teenagers with a health condition or a disability but it's not that common at all. I don't think I ever heard of another book where one of the two main characters was blind. This is a beautiful book and it taught me so much about blind people, how they can adapt to things and also about guide dog schools and how the dogs are raised and trained. I admit I almost cried when Blanca had to give her dog back to the school. It was the first time I read a book where a big a part happened in a guide dog school. The story is really original and it is not something you read about every day.
The book's real strength is the collaboration of Ana Galan, an author for young-adults and children, and Manuel Enriquez, who is blind. Thanks to him, David's thoughts and struggles look realistic and you have a real insight in the life of a blind person and the reader knows it was not just made up by some author but told by someone who truly understands what it is.
I really loved the story and the two main characters. My problem was the dialogues which were not at all natural. It is great to want to teach the readers something but the authors don't need to drown them with too much information. Nobody talks like the characters in real life. Every time they talk, they talk for at least 10 lines and give at least 5 pieces of information. It doesn't even sound like a conversation.
Except for that, I enjoyed this book and the love story between David and Blanca. And last but not least, I am very happy with everything that I learned.
Pages: 300
Price:  $22.49. You can buy it here.
Rating: 4 out of 5 stars
FRANÇAIS
Ferme les yeux et regarde moi
Résumé: Après un grave accident de voiture, David apprend qu'il est devenu aveugle. A partir de cet instant, il se retrouve plongé dans un monde d'ombres, de peur et d'angoisse. Sa vie est complètement bouleversée et il devra apprendre petit à petit à se débrouiller seul ou avec l'aide d'un chien guide. Le chien de Blanca, Kits, n'est pas comme les autres. C'est un futur chien guide qui est entraîné par Blanca et sa famille avant qu'il ne retourne à l'école pour terminer son entrainement. Les vies de Blanca et David se croisent et ils vont vite avoir plus en commun que seulement Kits. Mais est-ce qu'une jeune étudiante pleine de vie peut tomber amoureuse d'un aveugle malgré les pressions sociales et les préjugés des gens comme ceux de leurs familles?
Qu'est-ce que j'en ai pensé ?
C'est un livre que je voulais lire depuis un moment. J'avais vu ce livre l'année dernière dans une librairie et la couverture et le résumé sont restés dans mon esprit. Après Nos étoiles contraires et la série télé Switched, on pourrait penser que c'est commun dans la culture young-adult de lire des histoires sur des adolescents avec des problèmes de santé ou un handicap mais ce n'est pas aussi commun que ça. Je ne pense pas avoir déjà entendu parler d'un livre où l'un des personnages principaux était aveugle. C'est un livre magnifique et j'ai appris tellement de choses sur les aveugles, leur manière de s'adapter aux choses et également sur les écoles pour chiens guides d'aveugles et comment les chiens sont élevés et entraînés. J'avoue avoir presque pleuré lorsque Blanca a dû rendre son chien à l'école. C'était la première fois que je lisais un livre où une grande partie de l'histoire se déroulait dans une école pour chiens guides d'aveugles. L'histoire est vraiment originale et ce n'est pas quelque chose que l'on lit tous les jours.
La véritable force de ce livre est l'association entre Ana Galan, une auteure pour jeunes-adultes et enfants, et Manuel Enriquez, qui est aveugle. Grâce à lui, les pensées de David ainsi que les épreuves auxquelles il se confronte sont réalistes et le lecteur à un véritable aperçu de la vie d'un aveugle et sait que cela n'a pas été inventé par un auteur quelconque mais raconté par quelqu'un qui comprend réellement ce que c'est.
J'ai vraiment aimé l'histoire et les deux personnages principaux. Mon problème a été les dialogues qui n'étaient pas du tout naturels. C'est bien de vouloir apprendre quelque chose aux lecteurs mais les auteurs n'ont pas besoin de les noyer sous une tonne d'information. Personne ne parle comme les personnages dans la vie réelle. Chaque fois qu'ils prennent la parole c'est pour au moins dix lignes et pour donner cinq informations différentes. Ça ne ressemble même pas à une conversation.
A part ça, j'ai apprécié le livre et l'histoire d'amour entre David et Blanca. Enfin et surtout, je suis vraiment contente de tout ce que j'ai appris.
Pages: 300
Prix: 13,95 euros. Vous pouvez l'acheter ici.
Note: 16/20
21/35