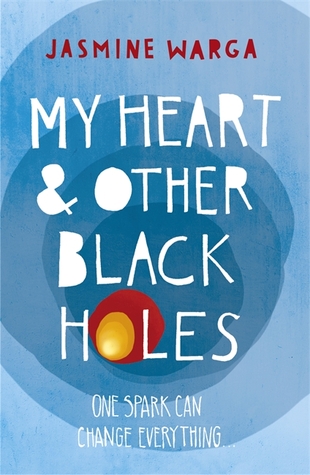 ENGLISH
THE Y.A. Book Circle session #3 – March 2015
My Heart and Other Black Holes
Book description: Aysel and Roman are practically strangers, but they've been drawn into an unthinkable partnership. In a month's time, they plan to commit suicide – together. With the deadline getting closer, something starts to grow between Aysel and Roman – a feeling she never thought she would experience. It seems there might be something to live for, after all – but is Aysel in so deep she can't turn back?
Hi everyone! So this weekend we had our third book club meeting and we welcomed a new member, so welcome Eugénie! This month we read a contemporary about a more serious topic: depression and suicide. First I am going to give you my opinion and then I will write about the things we said at the book club.
Personally, I thought it was an excellent book. The feelings of the protagonist are well described and we can totally understand her depression feelings, they are really intense. Actually, reading this made me feel quite sad. Every time I opened my book, my throat was tight and sometimes I had tears in my eyes. If you loved novels like Thirteen Reasons Why or All the Bright Places you will probably like it very much. What I loved the most was the suspense. In this novel, at the beginning of every chapter you are told how many days Aysel has left, because she is planning her suicide with Roman. Every time I turned the pages and started a new chapter I could see the number of days left getting smaller and all I could think was "please tell me they're not actually going to do it". It was really hard to resist the temptation of reading the end, but I resisted and read it in the right order.
I loved Aysel and her story, I felt so bad for her but I was happy to be able to get so many feelings with a book. It is Jasmine's Warga first novel and she is a very promising author. The plot, the characters, everything is perfect! And she has an amazing writing style too. Unfortunately, the suicide part is not the best written part and some of us thought it was not actually credible. It is a real page-turner though and it is one of my favorite reads for the moment this year. I loved Roman too and thought that this character was well developed and I even felt sadder for him than I felt for Aysel, who is the protagonist. The two of them are really different but I loved them both, as well as their stories even though they have nothing in common. The thing that surprised us all was the fact that you only have Aysel's point of view, it would have been interesting to have chapters from her point of view and others from his.
You might be a bit disappointed by the "love story" part because this novel is not really about a love story most of the time. Even though we did not all agree on this book, I am going to stick to my first opinion and say that I absolutely loved it and it is one of those books that I will always remember.
Pages: 320
Price: $10.93. You can buy it here.
Rating: 4.5 out of 5 stars. 
Analysis (spoilers!!):
The characters: I have already written about them in my review but I would just like to add that we all thought Aysel was really depressed, I mean she has a serious mental condition, but we also all thought she was not really suicidal. She does not look too serious about it and she is always trying to convince herself she actually wants to die. I loved how she started to doubt about her death plan and all the questions that went through her mind but not all of us liked that, it might look like she is indecisive too. And then about Roman, even though we all felt really sad for him, he is not a very likeable person.
The love story: we did not really see at which point they fell in love because they do not look like lovers at all during all of the first part of the novel. They look like suicide partners, which they are supposed to be. But suddenly it all became very cheesy and their relationship is not very credible in the last chapters. If you just want a love story, it is probably not the right book for you.
Themes:
– Depression: It is probably the best theme of the book. It is perfectly well described, it makes us feel it through the book. Every time Aysel describes how sad she feels, I felt sad and I wanted to quote what she said because it is so well-written it could be poetry.
– Suicide: A bit of a draft feeling, not explored enough. I don't know how to explain this, because most of the book is about death and suicide but there is something missing to make it look convincing. The girls were all a bit disappointed by this aspect but I still believed in their suicide for most of the book.
– Science: Aysel loves physics and scientific theories, and this is how she sees the world. It is so well introduced in the story. It is also her thoughts about energy and black holes that gave the book such an interesting title. Science is a big part of this book since Aysel is our narrator and it is her way of thinking. It was so interesting to put science in a book about depression, because you expect people suffering from depression to recite Camus in their head or some tragic poet and it is quite surprising to find science in such a novel. She also links death to many theories, especially about energy.
– Love: as you may have understood, it was not the best part of the book but it still had a lot of importance and even played a key part in their stories.
– Bullying: Aysel may not be physically bullied, and she is quite invisible so you would not say she gets insulted all the time but she is still being bullied. It is in the way people look at her after what her father has done, it is in the way her classmates treat her, in the way her mother is so distant, in the way her boss acts with her. For example, when they are given their group for a class project and the teacher tells her classmate he is with her, another girl says aloud how "sorry" she is for him. It probably plays a big part in her desire to die.
The end (spoilers spoilers): I was quite happy that they don't die at the end, Roman does try to commit suicide though and he is saved by Aysel. Actually, we thought the book would have been better with the death of one of them, probably Roman's, it would have had more impact.
And if you want to join, this month's book will be: Lies We Tell Ourselves.
FRANÇAIS
Troisième rendez-vous du Y.A. Book Circle – mars 2015
Le vide de nos coeurs
Résumé : Aysel et Roman sont quasiment des étrangers, mais ils se sont associés pour l'impensable. Dans un mois, ils prévoient de se suicider – ensemble. Avec la date qui se rapproche de plus en plus, quelque chose est en train de naître entre Aysel et Roman – un sentiment qu'elle ne pensait jamais connaître. On dirait qu'il pourrait bien lui rester des expériences à vivre après tout, mais Aysel s'est-elle trop engagée pour pouvoir revenir en arrière  ? 
Ce n'est pas le résumé français mais la quatrième de couverture en anglais que j'ai traduite, car je trouve que la version française contient trop de spoilers ! Je vous conseille de ne pas la lire si vous achetez le livre.
Bonjour tout le monde! Ce week-end nous avons eu notre troisième reunion du club de lecture avec un nouveau member, donc bienvenue à Eugénie du blog Eugén'hippie ! Ce mois-ci nous avons lu un roman contemporain sur un sujet plus sérieux : la dépression et le suicide. Je vais tout d'abord vous donner mon opinion et puis j'analyserai le livre plus en détail en résumant ce que nous nous sommes dit.
Personnellement, j'ai trouvé ce livre excellent. Les sentiments de l'héroïne sont bien décrits et nous comprenons parfaitement bien ce qu'elle ressent à travers sa dépression, ce qui est vraiment intense. En fait, en lisant ce roman, je me sentais un peu triste. Chaque fois que j'ouvrais mon bouquin, j'avais la gorge serrée et des larmes dans les yeux. Si vous avez aimé des romans comme Treize Raisons ou All the Bright Places, vous l'aimerez sûrement beaucoup. Ce que j'ai le plus aimé a été le suspense. Dans ce roman, au début de chaque chapitre on nous donne le nombre de jours restants pour Aysel avant son suicide planifié avec Roman. Chaque fois que je tournais les pages et commençais un nouveau chapitre je pouvais voir le nombre de jours rétrécir et tout ce à quoi je pouvais penser c'était « pitié, dites-moi qu'ils ne vont pas vraiment le faire ». Il m'a été très difficile de résister à la tentation de lire la fin, mais je ne l'ai pas fait et j'ai lu le livre dans le bon ordre.
J'ai aimé Aysel et son histoire, je me suis sentie vraiment triste pour elle mais en même temps heureuse de ressentir autant d'émotions à travers un roman. Il s'agit du premier livre de Jasmine Warga et je peux dire que son avenir est très prometteur. L'intrigue, les personnages, tout est parfait ! Et elle a un superbe style d'écriture également. Malheureusement, la partie qui porte sur le suicide n'est pas la mieux écrite, et certaines d'entre nous ne l'ont pas trouvée très crédible. Le livre est un véritable page-turner par contre et une de mes meilleures lectures pour l'instant en ce début d'année. Roman est un personnage qui m'a également plu et je me suis sentie plus triste pour lui que pour Aysel alors que c'est elle l'héroïne. Ils sont tous les deux très différents mais je les ai autant appréciés l'un que l'autre, tout comme leurs histoires même si elles n'ont rien à voir. La seule chose qui nous a toute surprises a été le fait que l'on n'ait que le point de vue d'Aysel alors que ce n'est pas ce que l'on pourrait croire en lisant  la dernière de couverture, l'histoire aurait mérité des chapitres alternés entre les points de vue d'Aysel et de Roman.
Vous pourriez être un peu déçus par la partie "histoire d'amour" car ce roman ne parle pas vraiment de ça pendant la plupart du temps. Même si nous n'avions pas toutes le même avis, je vais rester sur ma première opinion et simplement vous dire que j'ai adoré et qu'il s'agit d'un de ces livres que l'on n'oublie jamais. Vous devriez très vite en entendre parler car les droits ont été rachetés en France.
Pages : 320
Prix: 17 euros. Vous pouvez l'acheter ici.
Note : 18/20
L'avis d'Eugénie c'est par ici !
Analyse (attention spoilers, il s'agit de notre discussion sur des aspects précis du roman):
Les personnages : J'ai déjà un peu écrit sur eux dans mon avis mais j'aimerais juste ajouter que nous avons toutes trouvé qu'Aysel était réellement dépressive, je parle du véritable problème mental, mas nous avons toutes également pensé qu'elle n'était pas vraiment suicidaire. Elle n'a pas l'air de prendre ça vraiment au sérieux et tente constamment de se convaincre qu'elle veut mourir. J'ai aimé lorsqu'elle a commencé à se poser des questions sur son plan de suicide et les questions qui lui ont traversé l'esprit, mais pas tout le monde n'a aimé ça, on pourrait croire qu'elle est un peu indécise également. Et puis le souci avec Roman c'est que, même si nous avons toutes été très tristes pour lui, ce n'est pas vraiment une personne très agréable.
L'histoire d'amour: Nous n'avons pas très bien vu à quel moment ils sont tombés amoureux car ils n'ont pas l'air très amoureux pendant toute la première partie du livre. Ils sont l'air de partenaires de suicide, ce qu'ils sont sensés êtres. Mais tout à coup, tout est devenu un peu gnan-gnan et leur relation n'est pas très réaliste dans les derniers chapitres. Si c'est une histoire d'amour que vous voulez, ce n'est pas vraiment le meilleur choix de lecture.
Les thèmes :
– La dépression : probablement le thème le mieux traité du roman, on ressent vraiment ce sentiment en lisant le roman. Chaque fois qu'Aysel décrit sa tristesse, je me sentais également triste et j'avais envie de noter tout ce qu'elle disait car c'est si bien écrit qu'on dirait de la poésie.
– Le suicide : un léger air de brouillon, un thème pas suffisamment exploré. Je ne sais pas comment expliquer ça, car la plupart du bouquin parle de mort et de suicide mais il manque quelque chose pour que ce soit convaincant. Les filles ont toutes été un peu déçues par cet aspect mais j'ai tout de même cru en leur suicide pendant la plupart du roman.
– La science : Aysel alors la physique et les théories scientifiques, et c'est sa manière de voir le monde. C'est parfaitement bien introduit dans l'histoire. Ce sont également ses pensées sur l'énergie et les trous noirs qui ont donné un titre si intéressant au roman. La science est une grande partie de ce livre vu qu'Aysel en est la narratrice et qu'il s'agit de son mode de pensée. Nous avons trouvé ça super intéressant de parler de science dans un roman sur la dépression, vu que l'on attend des patients de réciter du Camus ou des poètes tragiques dans leurs têtes et c'est donc assez surprenant d'y découvrir de la science. Elle trouve un lien entre la mort et de nombreuses théories, surtout à propos de l'énergie.
– L'amour : comme vous l'avez peut-être compris, pas la meilleure partie du livre mais elle a énormément d'importance et l'amour joue un rôle clé dans la vie d'Aysel et de Roman.
– Le harcèlement : Aysel n'est peut-être pas agressée physiquement, et elle est un peu invisible donc on ne peut pas dire qu'elle se fait constamment insulter mais elle est tout de même harcelée. On retrouve ça par exemple dans la façon dont les autres la regardent après ce que son père a fait, dans la façon dont ses camarades de classe la traitent, dans la façon dont sa mère est si distante ou dans la façon dont son patron agit. Par exemple, lorsque le professeur distribue leurs groupes de travail pour un projet et qu'il annonce à un garçon qu'il va être avec Aysel, une autre fille de la classe dit à voix haute qu'elle est « désolée » pour lui. Ce qui joue probablement un grand rôle dans son désir de mourir.
La fin (attention spoilers spoilers): J'étais plutôt heureuse que personne ne meure à la fin, Roman fait bien une tentative de suicide mais il est sauvé par Aysel. En fait, nous pensons que le livre aurait été encore meilleur si l'un d'eux mourrait à la fin, surtout Roman, car cela aurait eu plus d'impact sur l'histoire.
Et si vous voulez nous rejoindre, la lecture de ce mois sera: Lies We Tell Ourselves