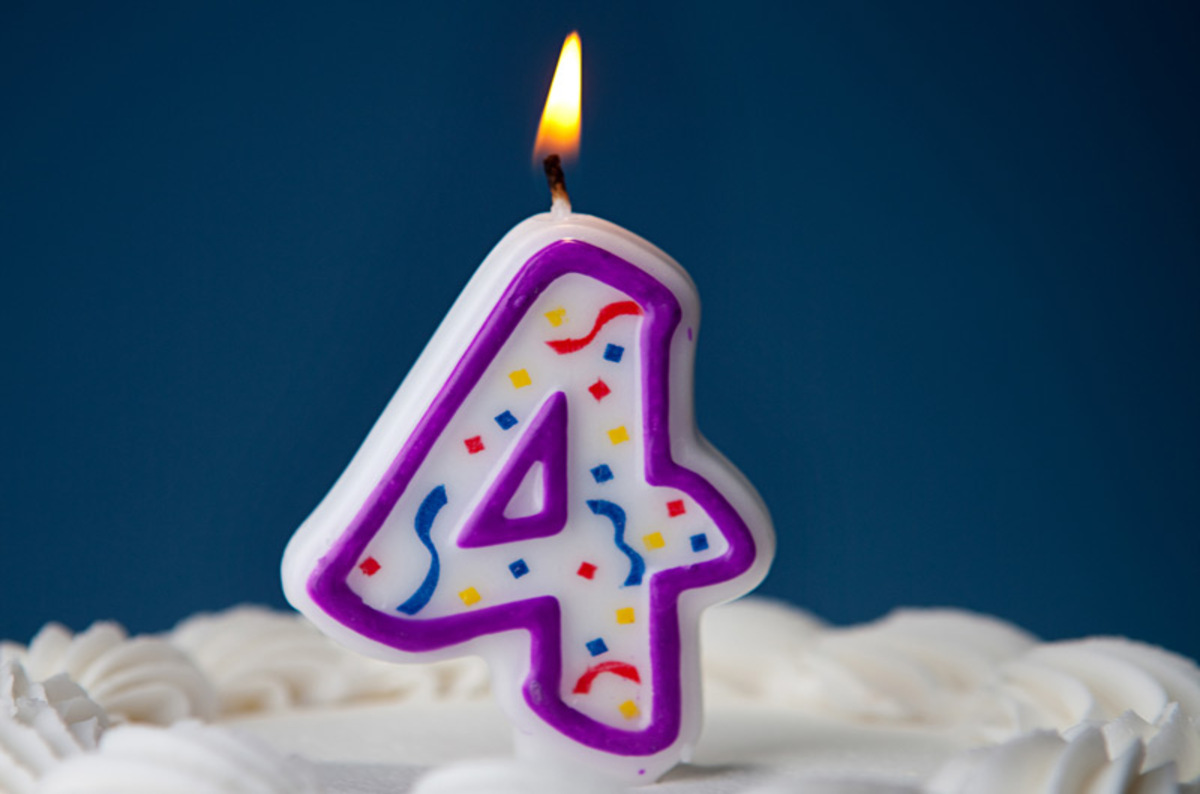 English
Hi guys! Like every year, I am thrilled to celebrate my blog's birthday. Today, it's been four years that I started this project. I created this blog during particularily long summer holidays during which I was bored. I thought it would last a few weeks but ended up being part of my daily life and I just can't imagine life without my blog anymore.
I've met amazing people thanks to it, both online and in real life thanks to book fairs and conventions. People that I met on my blog, on my Facebook page, on my Bookstagram account or even on my Booktube channel. If anyone had told me this before I started my blog, I probably wouldn't have believe them. I pictured blogging as such a lonely activity and I ended up knowing so many bookworms! Of course, I haven't always been writing regularly. There have been times where I was traveling, meeting new people, doing an internship or starting a new course. There have been weeks where I barely read. There have been times where I didn't feel like writing a review or translating it. For those of you who don't know me really well, I've been studying in four different universities these past four years, and I've been living in Paris, Edinburgh, Madrid, Salamanca, Nice and Swansea for at least four months in each city. My life can be quite busy, but I'll always enjoy reading a good book and writing reviews about them has become such a natural thing.
To give you a few numbers, I have posted 264 articles since the beginning of the blog. I've had a total of 23,382 views and 402 subscribers. I'd like to thank you all for always being there, even when I barely post. Thanks to you, I've been able to work with more than ten publishers and I've been invited to great book events. You've made this experience amazing and I can't wait to celebrate more blog birthdays!

Français
Bonsoir à tous ! Comme tous les ans, je suis hyper heureuse de fêter l'anniversaire de mon blog ! Aujourd'hui, cela fait quatre ans que ce projet a démarré. J'ai créé ce blog pendant des vacances d'été particulièrement longues où je m'ennuyais. Je pensais que cela durerait quelques semaines mais mon blog a fini par faire partie de ma vie de tous les jours et je ne pourrais plus m'imaginer vivre sans.
J'ai rencontré des personnes formidables grâce à lui, à la fois en ligne et dans la vie réelle grâce aux salons et événements littéraires. Des personnes que j'ai rencontrées sur mon blog,  sur ma page Facebook, mon compte Bookstagram, ou encore ma chaîne Booktube. Si l'on m'avait raconté ça avant de commencer mon blog, je n'y aurais probablement pas cru. J'avais toujours imaginé que bloguer était une activité solitaire et j'ai en fait rencontré une tonne de lecteurs comme moi ! Bien sûr, je n'ai pas toujours écrit de façon régulière. Il y a eu des moments où j'ai voyagé, où j'ai rencontré de nouvelles personnes, où j'ai fait des stages et où j'ai commencé de nouveaux programmes universitaires. Il y a eu des semaines où j'ai à peine lu. Il y a eu des moments où je n'avais ni envie d'écrire une chronique ni envie de la traduire. Pour ceux qui ne me connaissent pas vraiment, j'ai fait des études dans quatre différentes universités ces quatre dernières années, et j'ai habité à Paris, Édimbourg, Madrid, Salamanque, Nice et Swansea pendant au moins quatre mois pour chaque ville. Ma vie peut être bien remplie, mais j'apprécierai toujours un bon roman et écrire des chroniques est devenu une chose naturelle pour moi.
Pour vous donner quelques chiffres, j'ai posté 264 articles depuis le début de mon blog. J'ai eu un total de 23 382 visites et 402 abonnés. J'aimerais tous vous remercier pour être présents, même lorsque je poste peu. Grâce à vous, j'ai eu l'opportunité de travailler avec plus de dix maisons d'édition et d'être invitée à de super événements littéraires. Vous avez fait de ce blog une expérience incroyable et j'ai hâte de fêter davantage d'anniversaires !