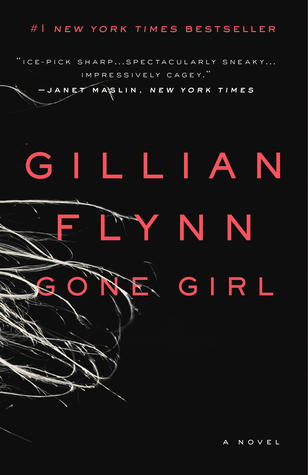 I'll write first in English, and then in French. It's not a translation, I am just writing first in English and then in French so it can't be exactly the same. (Première partie en anglais, deuxième partie en français, descendez un peu).
ENGLISH
Gone Girl
Book description: On the day of their fifth wedding anniversary, Nick's wife Amy disappears. There are signs of struggle in the house and Nick quickly becomes the prime suspect. It doesn't help that Nick hasn't been completely honest with the police and, as Amy's case drags out for weeks, more and more vilifying evidence appears against him. Nick, however, maintains his innocence.
So, what did I think about this book?
It was long to get through this novel! Overall, I liked the plot but I thought the novel was too predictable. Every time I heard about this novel, people told me "I am not telling you anything but…" and in the end, even though people thought they were not saying any spoiler, I was told about the big surprise of the novel.
The novel felt really unequal and I sometimes thought it was absolutely boring and sometimes fascinating! The first part started well with Amy's disappearance, the wife of the protagonist, very soon in the story. It was a bit too long though, despite not being packed with action. In the end, I wasn't surprised by the second part which was supposed to be a big revelation. The third part was by far the best one, but also the shortest, with less than 100 pages.
From the beginning, we are in Nick's head, and even though he is totally annoying, we also know he is innocent. The reader has to read about his downfall, powerless. All evidence leads to him and he is the prime suspect in his wife's possible murder. However, the investigation feels weirder every time, a lot of elements don't seem to match and the evidence seem not to be here by accident.
I enjoyed following the investigation which was a bit out of the ordinary even though I didn't like the main character. Nick is a 35-year-old man who makes a lot of mistakes that the reader isn't really willing to forgive. Also, he acts like a fool. He knows perfectly well that he is the prime suspect in this case but he can't help lying all the time to the police. Honestly, it is not the best way to prove his innocence… Amy's character, who we discover mostly through flashbacks (that I thought were rather boring at first) is extremely interesting, but I didn't like her either.
The whole novel was quite predictable for me, except for the third part, which was by far my favorite because I could not predict what was going to happen at any moment! The end is a bit scary, it is upsetting to think that such psychopaths can escape from the police. An open ending that can only leave us expect the worse for the rest of the story, but we will have to content ourselves with our imagination because there is no other book.
I recommend it to thriller and investigation fans, but the novel felt really long and did not convince me to read more of this genre. I was probably expecting more from it, particularly because of the huge advertising around the movie, but I have to admit I was disappointed.
Pages: 422
Price: $9.27. You can buy it here. 
Genre: Mystery, Crime, Psychological Thriller. For adults.
Author: Gillian Flynn
Rating: 3 out of 5 stars
FRANÇAIS
Les Apparences
Quatrième de couverture : Amy et Nick forment en apparence un couple modèle. Victimes de la crise financière, ils ont quitté Manhattan pour s'installer dans le Missouri. Un jour, Amy disparaît et leur maison est saccagée. L'enquête policière prend vite une tournure inattendue : petits secrets entre époux et trahisons sans importance de la vie conjugale font de Nick le suspect idéal. Alors qu'il essaie lui aussi de retrouver Amy, il découvre qu'elle dissimulait beaucoup de choses, certaines sans gravité, d'autres plus inquiétantes.
Qu'est-ce que j'en ai pensé ?
J'ai mis vraiment longtemps à me sortir de ce roman ! J'ai bien aimé l'intrigue de façon générale mais j'ai trouvé que le roman manquait de surprise. A chaque fois que l'on me parlait de ce roman, les gens me disaient « Je te dis rien mais… » et finalement, même en croyant éviter tout spoiler, on m'a tout de même révéler la grosse surprise du roman. Du coup, le tout était un peu trop prévisible pour moi…
J'ai trouvé le roman très inégal et j'ai été partagée, le trouvant par moments d'un ennui absolu et à d'autres passionnant ! La première partie démarrait bien avec la disparition d'Amy, la femme du héros, très tôt dans le roman. Elle a par contre traîné en longueur alors qu'elle contenait peu d'action. Je n'ai finalement pas été surprise par la deuxième partie qui devait être une grande révélation. La troisième partie était de loin la meilleure, mais elle était également la plus courte, avec moins d'une centaine de pages.
Dès le début, nous sommes dans la tête de Nick, et même s'il est franchement désagréable, nous savons aussi qu'il est innocent. C'est donc impuissant que le lecteur assiste à sa chute : toutes les preuves l'accablent et il est le suspect numéro 1 dans le possible meurtre de sa femme. Cependant, l'enquête est de plus en plus étrange, de nombreux éléments ne semblent pas cadrer et les preuves semblent bien ne pas avoir été placées là par hasard.
J'ai apprécié suivre cette enquête qui sortait de l'ordinaire même si le personnage principal ne m'a pas vraiment touchée. Nick est un homme de 35 ans qui fait franchement beaucoup d'erreurs que le lecteur n'a pas envie de lui pardonner. En plus, il fait vraiment l'idiot. Il sait pertinemment qu'il est le suspect numéro 1 dans cette affaire mais il ne peut s'empêcher de mentir en permanence à la police ! Franchement, ce n'est pas la meilleure façon de prouver son innocence… Le personnage d'Amy que l'on découvre surtout dans des flash-backs (que j'ai trouvé plutôt ennuyeux au début) est quant à lui très intéressant, mais là non plus, je n'ai pas été touchée.
L'ensemble du roman était pour moi assez prévisible, sauf pour la troisième partie, qui a de loin été ma préférée car je ne pouvais prévoir ce qui allait arriver à aucun moment ! La fin est tout de même assez flippante, il n'est pas agréable de penser qu'il peut y avoir de tels psychopathes dans notre société qui passent entre les mailles de la police. Une fin assez ouverte qui ne peut que nous laisser prévoir que le pire pour la suite, mais nous devrons nous contenter de notre imagination car il n'y a pas de deuxième tome.
Je le recommande aux fans de thrillers et d'enquêtes policières, mais j'ai trouvé le livre vraiment long et il ne m'a pas convaincue de lire davantage de romans du genre. J'en attendais sûrement plus, notamment à cause de la grosse publicité qui a été faite autour du film mais je dois avouer que j'ai été déçue.
Pages : 696
Prix : 8,60. Vous pouvez l'acheter ici
.
Genre : Mystère, crime, thriller psychologique. Adultes.
Auteur: Gillian Flynn
Note : 12/20